Aug. 18th
2016
Join us for a chance to win $10,000.00 with a Hole-In-One, 2 Longest Drive, Lunch and Dinner, Drink Tickets, 50/50 Raffle, Pot of Gold Contest, 52 Card Jersey Draw, 3 Closest To Pin Winners, Team Prizes at 3 Flight Levels, and Table Prizes
For more information, contact Judy Jones (877) 270-2222, jejones@semiacca.org
Aug. 18th 2016
Join us for a chance to win $10,000.00 with a Hole-In-One, 2 Longest Drive, Lunch and Dinner, Drink Tickets, 50/50 Raffle, Pot of Gold Contest, 52 Card Jersey Draw, 3 Closest To Pin Winners, Team Prizes at 3 Flight Levels, and Table Prizes
For more information, contact Judy Jones (877) 270-2222, jejones@semiacca.org
Southeast Michigan A. C. C. Association 64th Annual Golf Outing
Location:
Hickory Creek Golf Course
3625 Napier Rd.
Superior Twp. MI, 48198
734-454-1850
Date & Time:
August 18th, 2016
Shotgun Tee-Off at 9:30 a.m.
Reservation Deadline: Aug. 9th
What You Need to know:
18 Holes of Golf with Cart!
Hamburger or Hot Dog Lunch served at the turn
Buffet Steak Dinner at 4:00 p.m.
3 Drink Tickets
Chance to win Prizes
All for $120.00 per Golfer
Dinner Only $50.00 (Includes Drink Tickets & Prize Tickets)
Soft Spikes and Proper Golf Attire Required
Hickory Creek Golf Course: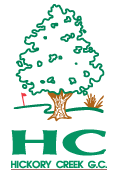 Hickory Creek Golf Course, one of the finest public golf courses in Southeastern Michigan located just west of Canton. Our Metro Detroit golf offers a variety of golf challenges from tight, tree lined, contoured holes to the well protected, signature island green of hole #17.

Hickory Creek Golf Course also offers a few straightforward golf holes that will allow the average golfer to feel good about their game. In other words, whether you're a weekend warrior or a low handicapper, Hickory Creek Golf Course offers Michigan golfers enough variety to satisfy every Metro Detroit golf enthusiast.
Thank you for considering this event, as it is an important fund raiser for our Association.
Your support raises money to assist our efforts throughout the year with:

• Quality training meetings, code seminars, and inspector panel discussions

• Annual "Seniors Day", where our member contractors and suppliers provide free service and replacement equipment to seniors in need

• Special projects such as volunteer work for Habitat for Humanity

• Support for the Annual SEMIACCA Trade Show
'; //document.write(scriptFile);